Home
What is the Alexander Technique and what are its benefits?
How can I find a Teacher or Course?
What happens during an Alexander Technique Lesson or Class?
Alexander Technique Self-Study
Who was F. M. Alexander?
Musicians and the Alexander Technique
Medical and Scientific Research and Endorsements
Alexander Technique Applications and Personal Accounts
Alexander Technique Bookstore (USA, Canada and the UK) in association with AMAZON
Videos, DVDs, Books, MP3s and RealAudio Resources
Interactive Alexander Technique Resources
Resources for Alexander Technique Teachers and Students
Links
CONTACT - FEEDBACK - SUPPORT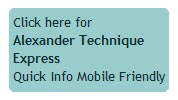 Alexander Technique Forum
Introducing a new Facebook Group for anyone with an interest in the Alexander Technique.
Click here to join!


You can also follow The Complete Guide to the Alexander Technique on Facebook and Twitter to get the latest news on Alexander Technique developments worldwide - articles, videos, audio interviews and more...




Welcome to The Complete Guide to the Alexander Technique - the most comprehensive source for information about the Alexander Technique worldwide.
The Alexander Technique is a way to feel better, and move in a more relaxed and comfortable way... the way nature intended.

An Alexander Technique teacher helps you to identify and lose the harmful habits you have built up over a lifetime of stress and learn to move more freely.

The Alexander Technique is for you if you are ready to feel more comfortable in your own body.
The Alexander Technique can also help you if:
You suffer from repetitive strain injury or carpal tunnel syndrome.
You have a backache or stiff neck and shoulders.
You become uncomfortable when sitting at your computer for long periods of time.
You are a singer, musician, actor, dancer or athlete and feel you are not performing at your full potential.
The links at the left provide a comprehensive guide to all Alexander Technique resources worldwide.

More videos at AlexanderVideo.com.




Listen to or download a Description of the Alexander Technique


Listen or subscribe to the Alexander Technique Podcast



This site is a service of:
Alexander Technique Nebraska and Toronto, and Care for Your Parents, Care for Yourself Coaching
This site is sponsored by: Commercial Gym Equipment from the Fitness Warehouse. From indoor cycles to treadmills they have everything you need, and by:
Check out Train Fitness for their personal training courses and great health and wellbeing information. and by:
With personal trainers in Sydney and leading Manchester personal trainers. Ultimate performance London personal trainers and Singapore personal trainers have a global presence,
Gear Hungry Fitness gifts for men at Gear Hungry and by:
The Winning Bike for unbiased bike reviews to ensure you find your winning bike for bike rides to remember, and by:
Fitness instructor insurance from FitPro and by:
Opticsandlab a website for people in love with science focused on science objects for kids and vacuum ovens and by: Dave's Cheap Bikes reviews road and mountain bikes from the perspective of a life-long cyclist and bike mechanic and by:
Cut My Plastic, plastic sheets cut for you and by:
Get Coffee, Be Happy is a place where you can find everything about coffee, espresso machines reviews to coffee merchandise! and by:
Net Geek Pro is a self-help tech blog focusing on WordPress hosting reviews and industry leading technology advice and by:
Paintball Award is the best website for figuring out which paintball mask is right for you.

Alexander Technique Nebraska and Toronto with Robert Rickover

Robert Rickover is a teacher of the Alexander Technique in Lincoln, Nebraska. He also teaches regularly in Toronto, Canada. He offers Online Posture and Movement Coaching sessions for students in other locations.

Robert has been teaching the Alexander Technique for over 35 years. He trained at the School of Alexander Studies in London and studied extensively with the late Marjorie Barstow and assisted her in teaching workshops in Lincoln.

Robert is on the faculty of the annual Nebraska Wesleyan University High School Solo Singer Workshop and is the Director of Alexander Technique Workshops - Bring a Workshop to Your Area.

He hosts the Alexander Technique Podcast and is the creator of Body Learning Blog and the other websites listed on the column to the left.

Robert is the developer of Up With GravitySM, a method of harnessing the power of gravity to release tension and lighten up.

He is the owner of Alexander Technique Website Hosting - a service for Alexander Technique teachers.

Arrange a lesson or workshop with Robert

Care for Your Parents, Care for Yourself
Life Coaching with Anne Rickover

Are you facing challenges with your elderly parents?

If you spend any time assisting your aging parents, you know it's a labor of love, but it can also be very stressful. Determining your parents' changing needs and finding ways to meet them is a big job.

It's normal to feel caring, confused, and conflicted.

At times, you can feel like you're facing one crisis after another. You can feel exhausted, overwhelmed, angry, sad, and loving, sometimes all at once! It can feel very lonely, and your own needs can get lost along the way.

As a life coach specializing in helping people who care for their parents, Anne will:

· Provide empathetic support and
perspective.
· Explore strategies to meet your
parents' changing needs.
· Deal with the impact of caregiving
on your entire family.
· Focus on maintaining a fulfilling
life for yourself.

Set up a Free Introductory Session with Anne and visit her Website