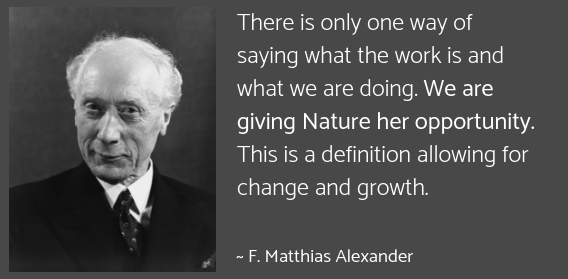 F.M. Alexander (1869-1955) was an Australian actor who began to experience chronic laryngitis whenever he performed. When his doctors could not help him, Alexander discovered a solution on his own. He had not been aware that excess tension in his neck and body were causing his problems, and began to find new ways to speak and move with greater ease.
His health improved to such an extent that his friends and several of the doctors he had consulted earlier persuaded him to teach others what he had learned. Over a career span of more than fifty years, he refined his method of instruction. After teaching for over 35 years, he began to train teachers of what has now become known as the Alexander Technique.
F. M. Alexander Resources:
Nicholas Brockbank, a British Alexander Technique teacher, has written an excellent article titled, What Did Alexander Discover – And Why is it Important?
Alexander Talk includes MP3 conversations about F. M. Alexander and his discoveries.
Just about every description of the Alexander Technique has some biographical information about Frederick Matthias Alexander, or "FM" as he is often referred to in the Alexander community. One Hundred and Forty Five Candles provides a short description of the man and his life.
A nice description of the Alexander Technique, including biographical information about F M Alexander:
Alexander wrote 4 books: Man's Supreme Inheritance, Constructive Conscious Control, Use of the Self, and The Universal Constant in Living.
To find out how to order these books go to The Alexander Technique Bookstore (USA and Canada) in Association with AMAZON.COM and AMAZON.CA or The Alexander Technique Bookshop (UK) in association with AMAZON.CO.UK.  You can listen to a free audio version of Constructive Conscious Control here.
If you would like to learn more about Alexander's life, four good books are:
FM – The Life of Frederick Matthias Alexander: Founder of the Alexander Technique by Michael Bloch
F. Matthias Alexander 1869-1955: A Biographical Outline by Walter Carrington
Up From Down Under by Rosslyn McLeod
Frederick Matthias Alexander – A Family History by Jackie Evans
To find out how to order these books go to Alexander Technique Books
Click here to listen to a full audio recording of Alexander's second book, Constructive Conscious Control
Click here to view a collection of photos and a video of F. M. Alexander.
F. Matthias Alexander Illustrated Quotes
Following Alexander's death in 1955, a number of teachers trained by him in the 1930s had a huge influence on Alexander Technique teaching. Several have websites devoted to their lives and their teaching: